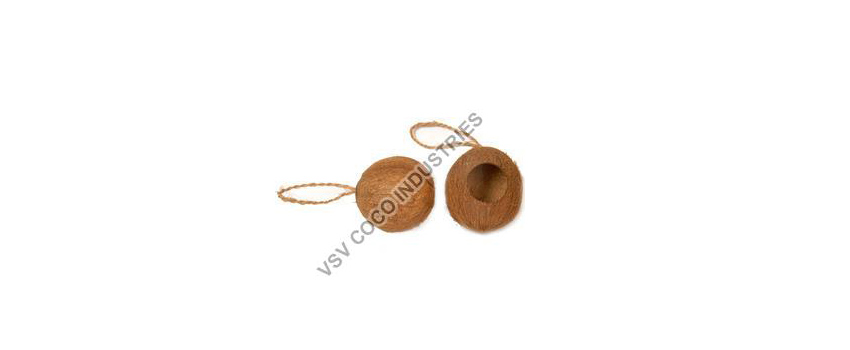 The coconut shell is a unique byproduct of coconut that is useful for making a bird's nest. A coconut feeder is one of the first kinds of product that is useful for birds to stay in and enjoy their food. Different kinds of wild birds get attracted to coconut feeder.
The coconut shell bird feeder is fully biodegradable, which gives the birds a comfortable place to take a rest.
Best Place to Hang the Bird Feeder
Here is the list of a few places where you can hang the coconut bird feeder after buying it from an authentic coconut shell bird feeder supplier-
1. Protect the bird feeder from harsh weather conditions. Try to put them under shade and protect the bird feeder from strong wind.
2. Try to locate it within a short distance of trees or hang them from the tree. The tree will provide a safe place for birds to fly up into if they spot a cat or sudden noise that frightens them.
3. Install the feeder away from fences or dense foliage where cats could hide and pounce.
4. Ensure the feeder has a good view all around so birds can cleanly see the predators.
5. Place the coconut feeder in a quiet location. If you have a choice, hang your bird feeder in the back garden, rather than the front garden, away from the noise of cars.
You do not need to place the feeder too close to an exceptionally noisy household for the same reason.
How to Attract Birds to a Hanging Coconut Bird Feeder?
You can follow these steps to attract birds to a hanging coconut bird feeder-
• Always supply fresh water near the coconut feeder.
• Avoid toxic and harmful chemicals in the garden and ensure the fat balls you use do not use plastic netting.
• Note your bird visitors and try to understand their preferences to attract them. It gives a safe feeding option for birds.
• You can add mealworms to your hanging feeders as a special tasty treat.
• You can plant lots of wildflowers around the coconut feeder.
• You can use a ground feeder and hanging feeder per the bird's preference.
Benefits of Using Coconut Birds Feeder
The significant reasons for which you can use a coconut bird feeder are as follows-
1. It is easy to hang out with and can be huge fun for the whole family.
2. The coconut feeder is reusable because it has been stuffed on you, and you can refill it with more energy, food seeds, and fruits.
3. The coconut bird feeder attracts several birds, including sparrow, silvereye, blackbirds, yellowhammer, and wax eyes.
4. You must identify a safe place where local predators such as cats cannot easily get at the feeder. Try to hang the coconut feeder from a stable branch of a tree.
5. If you choose an authentic coconut shell bird feeder supplier, you can get the ultimate benefits of a coconut feeder.
From the above information, try to understand the benefits of having a good quality coconut feeder.