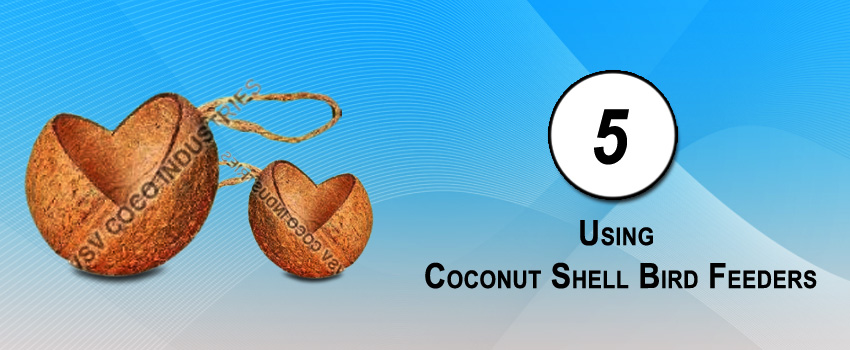 Birds are vital for the ecosystem, and feeding them is the best way to sustain their population. Coconut shell bird feeders are an eco-friendly, innovative, fun way to feed birds. They are beautifully created from coconut shells, a natural material obtained from matured and dried coconuts. This makes them a preferable biodegradable and organic product. The exterior part of the coconut bird feeder is hard and the interior part is fibrous, which is why the product serves as the safest and most convenient material to feed birds. Here, we will discuss some advantages of coconut shell bird feeders.
• Eco Friendly:
Coconut shell bird feeders are eco-friendly alternatives to plastic bird feeders. One of the primary advantages of using coconut shell bird feeders is that they are created from renewable, natural sources. Coconut shells are discarded as waste, but by creating beautiful bird feeders with these shells, you can help reduce waste and promote sustainability. These bird feeders are biodegradable, which means they will degrade or break down naturally without causing any harm to the environment.



• Aesthetically Pleasing:
Coconut shell bird feeders are creatively created and are aesthetically pleasing. They are available in varying sizes, shapes, and designs so that you can choose one that fits your garden's theme and décor. Ranging from coconut two-hole bird feeders, half-cut coconut shell bird feeders, oval coconut bird feeders, single-hole coconut shell bird feeders, three-hole coconut shell bird feeders to V-cut coconut shell bird feeders, you can have great choices at a coconut shell bird feeder supplier. These bird feeders have an earthy and rustic feel, which can go very well with the natural settings of your garden.



• Perfect For All Kinds Of Birds:
Coconut shell bird feeders are intelligently created to attract various types of birds. They are ideal for birds like finches, jays, cardinals, buntings, chickadees, grosbeaks, sparrows, titmice, etc. Once you hang a coconut feed bird feeder in your garden, balcony, or backyard, you will see different types of birds visit your place. Watching beautiful birds, interacting with them, and listening to their chirps & songs can help you stay calm and relieve your stress.



• Durable:
Unlike plastic bird feeders, coconut shell bird feeders are highly durable and can last long. They require zero maintenance, making them an excellent investment in the long run.



• Affordable:
Coconut shell bird feeders are very affordable. The prices of these bird feeders vary depending on their shapes, sizes, and designs, but they are comparatively cheaper than bird feeders made from other materials. The affordability of the coconut shell bird feeders makes them accessible to people on a small budget. Creating a coconut shell bird feeder on your own can help you save money while recycling the coconut shells.


Using a coconut shell bird feeder is an enjoyable, eco-friendly, and affordable way to attract a variety of birds to your home, backyard, or garden. These feeders offer a unique, natural, aesthetic look that improves the beauty of any place. The benefits of coconut shell bird feeders are numerous, making them a good choice for people who care for nature.